Congratulations! You're ready to start your own business. Whether you'd like to talk over your ideas or look into financing options, we're here for you at every step of the way.

What do you need to launch a successful business?
We break it down into 3 steps: Visualize what you want to do, register your business and get financing so you can make your dream a reality.
Easy as 1-2-3!
1. Decide on a business model
Carry out research to identify your target market. Download our business model canvas to help you with the brainstorming phase.
You're now ready to draw up your business plan.
Transform your idea into a concrete, feasible business strategy. Be creative! Carve out a niche for yourself.
Value proposition
Business partners
Market and opportunities
Distribution channels
Create your annual budget and present your financial forecasts with Budgeto.
Use Operio Accounting Services to get control of your finances right from the start.
With an offer that includes free legal advice, you're in business now
Going further
You have a project in mind. Do you have support? Our network can help power your ideas.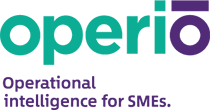 Need an extra boost?
Do you know what incubators can do for you? Take advantage of our Guide to Incubators.
Need advice?

Speak to an advisor about your business start-up.
TMMY BUSINESS MODEL and the MY BUSINESS MODEL logo are trademarks of National Bank of Canada.
1Subject to credit approval by National Bank.